---
New Student Discovery Workshop September 20th 
New 12 Week Session Classes Beginning Tuesday September 26th 
---
DIANE VENORA is the first American woman to play the title role in "Hamlet" for Joseph Papp's New York Shakespeare Festival.
Her film & TV roles include a critically acclaimed performance in Clint Eastwood's biographical feature "Bird", which earned her a Golden Globe nomination and the New York Film Critics Award; a recurring role in the Emmy award-winning series "Chicago Hope"; Al Pacino's wife in "Heat" with Robert DeNiro; 'Juliet's mother' in Baz Luhrmann's "Romeo + Juliet" starring Leonardo Dicaprio; and the female lead in "The Jackal" opposite Bruce Willis, Richard Gere & Sidney Poitier; Russell Crowe's wife in Michael Mann's "The Insider".  Diane is a Juilliard graduate and continues to study new acting techniques in both London & New York. For more on Diane Venora, visit: Diane Venora IMDB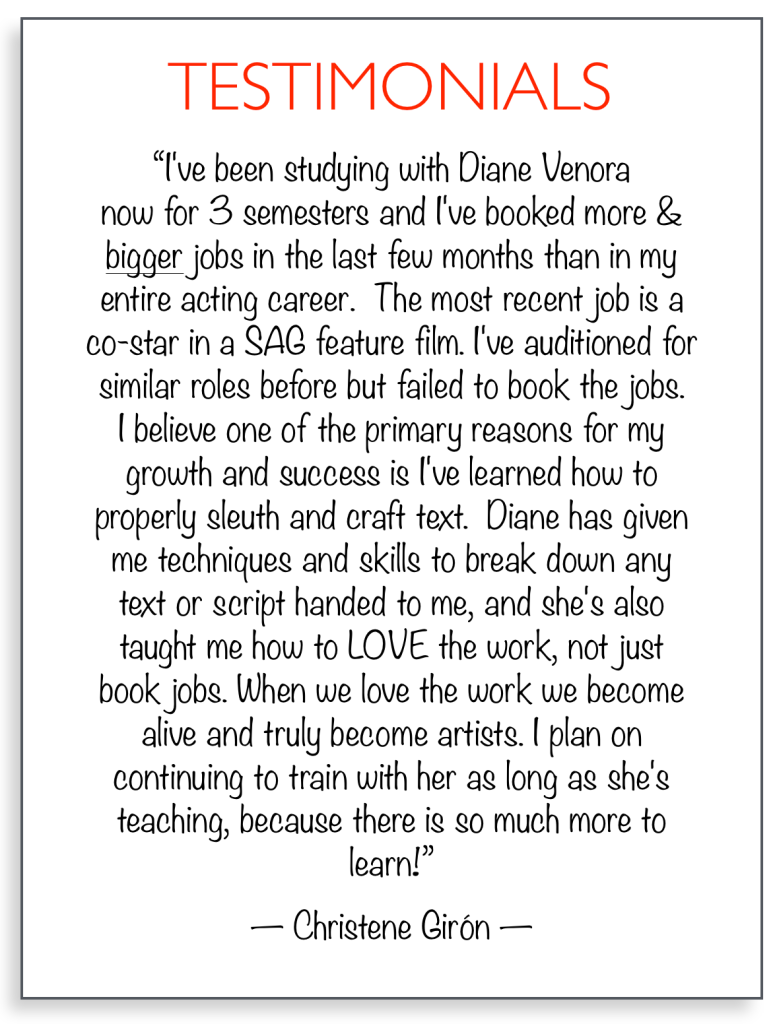 TRANSFORMATION ARTISTS LA   is an acting program created to reawaken our minds, bodies, spirits, and emotions to the work of being the best communicator of plays, screenplays, heightened texts, & new works. Based on excellence of craft, voice, language, movement, and soul to remind us why we became actors in the first place…to play the great parts by great writers brilliantly.

TRANSFORMATION ARTISTS LA offers the following:
Workshop intensives
Semester classes (must have attended one workshop prior to enrolling)
Private coaching (for actors, dancers, singers, public speakers)
Coaching intensives and devising sessions for companies (includes theater, dance, and corporate companies)
We have now switched from PayPal to using VENMO for all student payments.  Please make all payments to the following VENMO account: 
@transformationartistsla
---
UPCOMING CLASSES & EVENTS
---
Check back soon for details for more upcoming Workshops!
---
Private Coaching
Private coaching is available for those who are preparing for an upcoming audition or are currently in a production and seek coaching to prepare for a scene.  To request coaching, please CONTACT US